Whether you only tried it a few times during college or you're a daily-doober, you may have noticed that there are a few after-effects of smoking the sweet mary jane.
Of course, you probably come prepared for a smoke with a few bottles of Gatorade and a whole lot of chocolate and chips. But should there be something else to add to the list? Condoms?
We all know when it comes to sex that we want to keep it safe so they're never a miss to keep in your wallet or purse.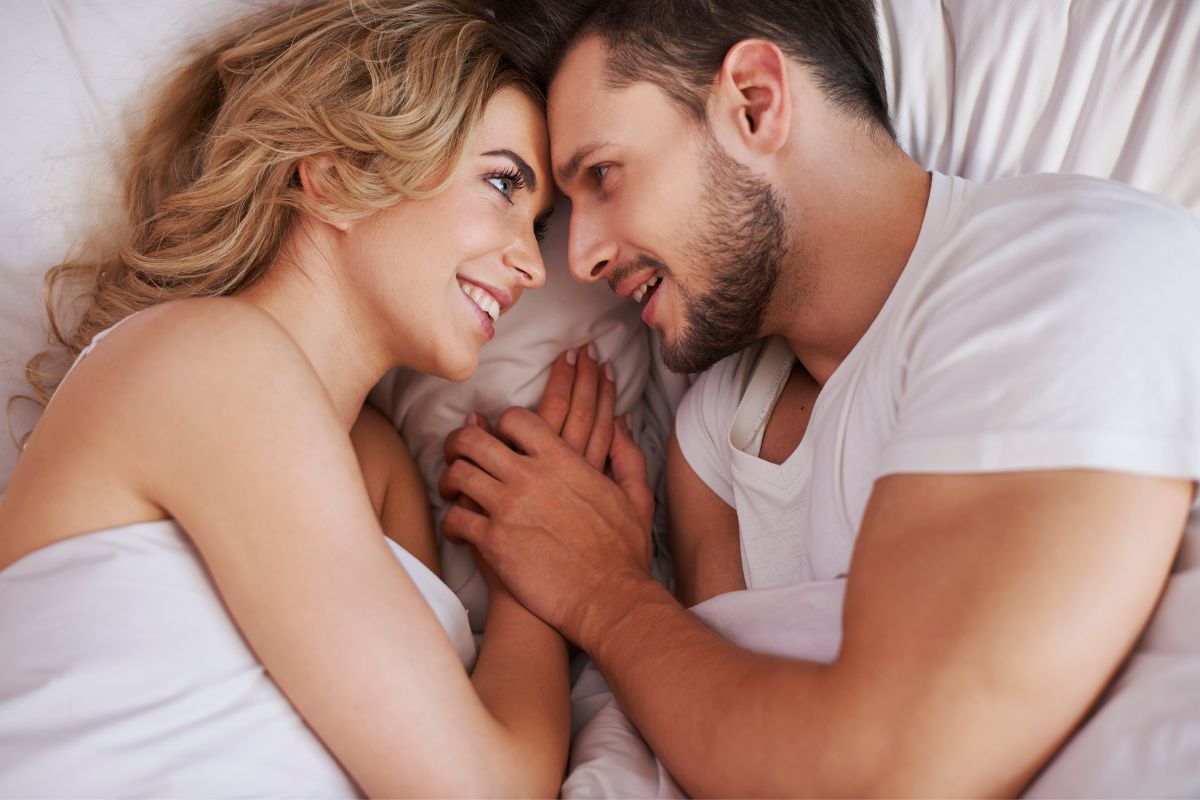 And it turns out that after a smoke you might really find yourself wishing you had some since weed has been known to massively affect libido, sexual desire, horniness – whatever you want to call it.
So, if you find yourself in the mood, after you've had a smoke or two, don't worry if there's anything wrong with you – there isn't.
According to a 1974 study, the investigators found that around 48.5% of participants reported increased sexual desire after consuming marijuana. So we're right there with you – at least half of us anyway.
So, why does marijuana get us going? Let's find out.
Why Are We Getting Horny After A Smoke?
Did you know that using marijuana to get yourself into the mood is something that has been done for a very, very long time? And I'm talking Ancient Rome kind of a long time.
While it might be hard to envision, Ancient Romans would use the stuff as an aphrodisiac – pretty cool, right?
Well, back then there were no answers for why weed causes the effects that it does. Now, thanks to a lot more research we're a bit more clued up. Though there is still more to be learned.
But essentially it comes down to three main effects on the body; the physical, the mental, and the emotional. So, let's take a look at these now.
The Physical
Marijuana can affect how your body physically feels and this can increase your libido. So one of the main things that it can do is actually enhance an orgasm making it feel more powerful and just generally more pleasurable. It can also enhance the feeling of arousal.
So, if you have sex while high one time and expierence that more powerful orgasm, the next time you smoke you're going to want to do it again. When you feel aroused, you're more likely to want to act on it too.
There is speculation that this is due to a vasodilator effect where essentially when you're smoking more blood flow goes to, well…there.
Another important fact to remember is that a massive 75% of women experience pain during sex. Since weed is well-known to relieve pain, it is likely that women enjoy sex more when smoking as it reduces the pain and thus makes the activity more appealing.
The Mental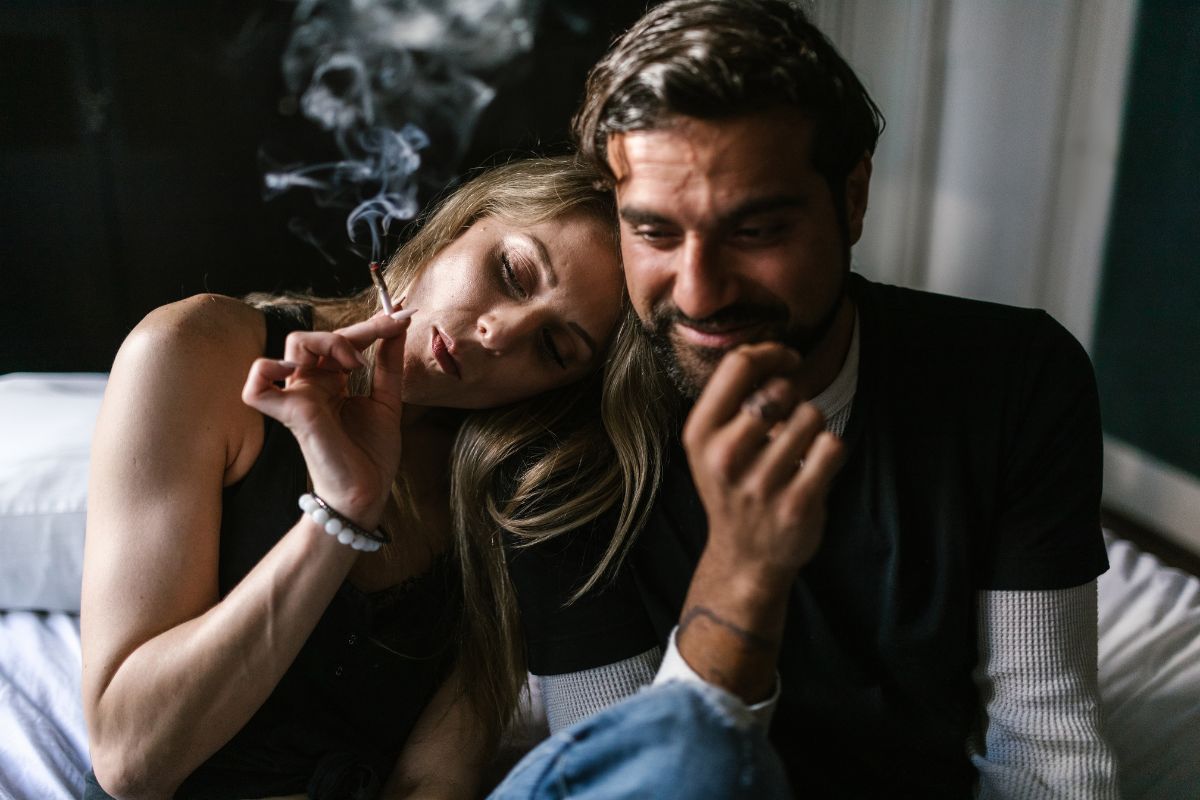 Not only does weed affect your body, but it also affects you mentally and this can influence your sexual habits. For example, weed is known to lower your inhibitions.
It can essentially help you become less shy or anxious. So whereas you may have wanted to but not had the courage to make a move – you do now.
*Let's take a moment to highlight that you should only have sex once you have full consent. Hesitation, reluctance, or indecision is not consent.*
Now, if you do have consent you may find that you or your partner are also more attuned to your body while you are high. This is because you can feel more attentive and pay closer attention to physical sensations.
This can thus lead to more sensuality, arousal, and stronger orgasms.
For those who have sexual trauma, weed can also help as it can calm any anxiety you feel around the activity and help you relax more.
Many individuals that suffer from PTSD and flashbacks use marijuana to focus on the present rather than falling back into painful past memories.
The Emotional
When it comes to sex, they always say it's not in between the legs that need stimulation – it's the mind. Yep, why do you think dirty talk and anticipation work so well? Because your mind is a sexual organ that can really get you going.
When you consume cannabis, you increase the levels of oxytocin in your body. Oxytocin can increase both your levels of satisfaction and intimacy. So essentially, you'll feel closer to the person and you'll be in a much better mood.
Both of which create a recipe for increased arousal.
Mind How Much You're Smoking
Everyone will react differently to smoking weed, and that's important to remember. It's not exactly a universal expierence, it can affect each and every person differently.
However, if you find yourself more sexually-excited after a smoke, then you may be tempted to use marijuana as an aphrodisiac. You may be even more tempted after experiencing an intense high-induced orgasm.
It's worth mentioning though, that too much marijuana may have the opposite effect. Large quantities of cannabis have been found to cause vaginal dryness in women and can lead to either premature ejaculation or erectile dysfunction in many men.
So you should always keep a check on just how much you are consuming.
Final Thoughts
So, as we've learned, yes, smoking a joint definitely does have the potential to leave you feeling pretty horny. Therefore you might want to add condoms to your pre-smoke preparation shopping list. Things could get a little frisky.
However
It's really important to always have a conversation about sex before you spark up and get at it with whoever you're with. Consent is the most important thing here.
Always ensure that both parties are happy and willing to move forward with anything further while sober.
Sure, it may be a little embarrassing to have that conversation, but once you've had a smoke you'll have all the confidence in the world to make a move.
If you liked this article, you might enjoy our post, 'What Is Reggie Weed?'.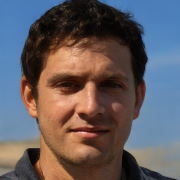 Latest posts by Zack Finch
(see all)